Downdraft Table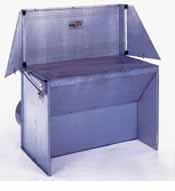 Downdraft tables by DUALDRAW are an efficient and economical way for companies to protect their workers from harmful dusts and fumes caused by welding, grinding, and polishing. Al downdraft tables have a perforated table and back wall which draws air contaminants like dust, fumes and smoke away from operators breathing zones.
Downdraft tables by DUALDRAW have an exclusive perforated table top and back which draws air evenly through 2500 openings. The downdraft tables have no large openings to create areas of high velocity air flow and noise or for tools to drop through. The downdraft tables have a 500lb capacity and reduce heat loss by filtering air back into the room rather than outside.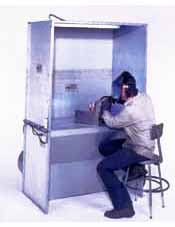 Systems that vent from the top pull smoke up past the worker's face. The Downdraft table draws it back and down away from the operator.
With the DUALDRAW Downdraft Booth, working on parts high above the table is not a problem. Fumes and dust are still pulled out the back and away from the worker's breathing zone.
Downdraft Booth
FOR MORE INFORMATION CONTACT TOTALCLEAN TECHNOLOGIES
OR
VISIT WWW.DUALDRAW.COM
ęCopyright 1998 DUALDRAW. All rights reserved.