TOTAL CLEAN TECHNOLOGIES

#1 & #2
PROJECT OF THE MONTH
SEPTEMBER 2000
#1. Evans Industries in Topsfield Ma. does a large amount of sanding and
hazing of Aluminum sheets and parts. Previously this work was
performed on standard work benches. This caused a major Housekeeping
problem and allowed the workers to be exposed to the airborne
dusts. Total Clean Technologies recommended a DUALDRAW TB3096
(eight foot) downdraft bench less blower system. Total Clean ducted the
TB3096 into their existing 4500 CFM Wet dust collector. Now all the
dusts from the process are drawn into the DUALDRAW table through the
fully perforated table top and partially perforated back wall. The
operators are no longer exposed to hazardous dusts, the housekeeping
issue is resolved because the booth collects all the airborne dusts, and
the NFPA Code 651 for collection of hazardous dusts is satisfied.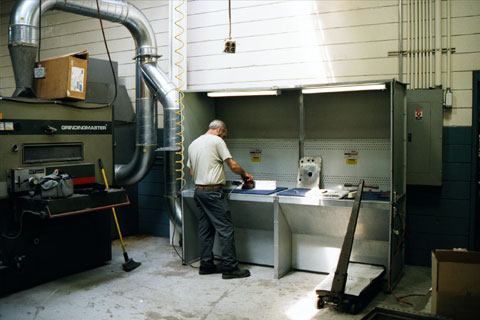 Mr. Rick Saunders, Manufacturing Engineer, shows how the
sanding process has been cleaned up with his new DUALDRAW Booth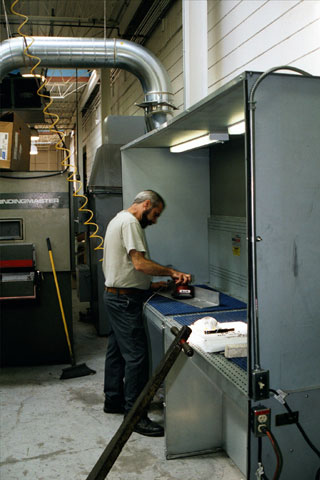 #2. East Coast Welding and Fabrication in Newburyport, Ma. performs large
amounts of Aluminum product sanding and polishing. Previously,
the work was done on open work benches. This allowed the dusts to float
around to other areas of the shop and expose the workers to these dusts.
Total Clean Technologies recommended the DUALDRAW BG3048-AL
Downdraft tables for Aluminum dusts. These tables have their own internal
air filtration systems that remove the hazardous dusts from the air stream
and recycle the clean air to the workspace. The NFPA Code 651
requirements for collecting Aluminum dust is satisfied when the equipment
is properly maintained.


Carl, a production engineer, shows how the DUALDRAW Table captures the dust
from the grinding process.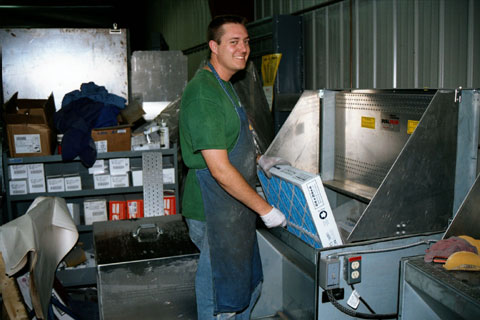 Carl demonstrates the ease of filter maintenance. "These DUALDRAW Tables
do a great job at keeping this area of the shop clean, and filter maintenance
is a breeze. I don't even need any tools. But I think what is most important
to us is that the owners of the company care enough about our health to
invest in this type of air purification equipment to protect us from the airborne
contaminants"